Where Can I Install a Pet Door?!
Now that you know you need a pet door, where can you install one? In a door, of course. That's where they go right?! Not necessarily. What if you don't have a people door available for your pet door. Where else can one be installed?
Installation in Doors:
Many people think pet doors have to go through people doors, and it is a very popular installation spot. Convenient and usually accessible to any ramps or stairs that people may use as well. I can install your dog door through almost any type of people door.
wood doors
metal doors
raised panel doors
multi-lite French doors
hollow core doors, and more
Installation in Walls: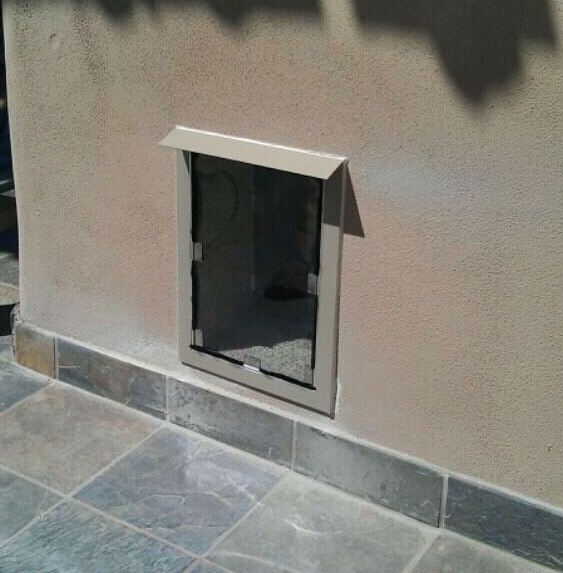 Our most popular installation type, yet one many people never think of having. Installing your dog door through a wall opens up a new world of possibilities for locations. No longer limited by the areas where you enter and exit your house, your wall pet door can be installed under a window, behind furniture, under a desk, and many other out of the way locations. Camouflage your wall dog door with a security barrier on the exterior and no one will even realize you have a pet door.
Wall pet doors can be installed in virtually any wall, no matter the interior or exterior composition, including:
standard framed walls
extra deep walls
stucco walls
brick or block walls
aluminum siding walls
masonry walls and more
Installation in Screens:
During pleasant weather, it is refreshing to have your windows and doors open to get a little fresh air. Let your pets enjoy the outdoors as well with a dog door installed directly into the screen. By purchasing a pet door that attaches to the screen frame and the screen mesh, you can rest easy knowing that your pet has access to his door while you keep bugs and other unwanted critters out of your house.
Screen pet doors work in:
screen doors no matter how thick the frame
screened porches
most screened windows
Installation Through Glass: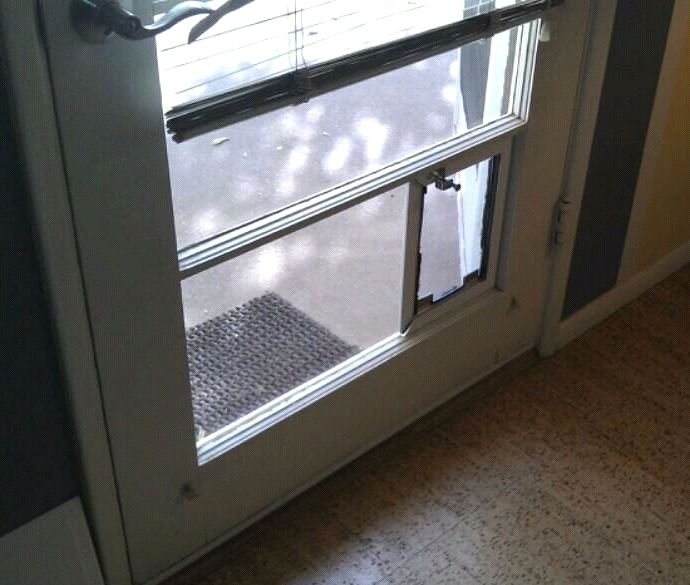 So you don't have any wall space available and your only door to the back yard is the sliding glass door on your porch but you still want a pet door. No problem. I can install a dog door directly through the glass of your door or window. Easily reversible should you ever move or decide to remove the pet door, an in-glass installation is one of the most attractive and unobtrusive options available for a pet door. By going through the glass, the dog door does not interfere with the operation of the people door in any way yet provides convenient access for your four-legged friend.
In Glass Pet Doors work for:
single pane glass
double pane glass
sliding glass doors
single-lite French doors
swinging glass doors
many types of windows
glass sunrooms and more
Installation In Windows or Beside Sliding Glass Doors:
If the only place available for your pet door is in a window or perhaps next to your sliding glass door, window pet door inserts and panel pet door inserts are the perfect answer. They can be a permanent or a temporary installation. They are also the perfect solution for renters who want a pet door but can't make permanent changes to the house.
Window and Panel Pet Door Inserts can be installed in:
sliding glass doors
stationary panels for sliding glass doors
vertical and horizontal opening windows
double-hung windows
hopper and casement windows
storm windows and more
Ramps:
If your pet needs access to the pet door either inside or outside the house, a sturdy attractive ramp is the answer. If you purchase a freestanding ramp it can also be used to allow your pet access to locations such as beds, couches, cars, and more.
Security Barriers:
Security barriers can be used to camouflage or barricade the pet door against human intrusion. I can walk you through all the choices available and complete a perfect installation of whatever type of security barrier your choose.
I am ready and waiting to help you improve both your life and the life of your pet today. Give me a call at 888-468-0059 to find out more about the pet door products and installation services I have to offer. I will be happy to answer any questions you may have or to schedule your appointment today.